Are you still having issues with your recovery from Sandy?  Come to our upcoming Sandy Recovery Workshop at the Mystic Island Fire Department in Little Egg Harbor on Wednesday, May 24 from 4 – 7 PM (NOTE: this event has been moved from the Little Egg Community Center).  You will learn about the latest issues with RREM (including closeout challenges), flood insurance claim reviews, and contractor disputes / fraud.  Or bring your own questions and issues.  There will be plenty of opportunities for discussion.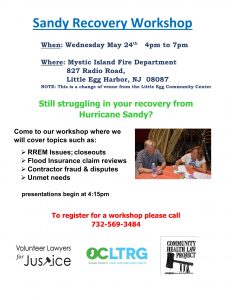 Click here to view or download a printable version of this flyer or our May-June workshop flyers.  Click here for our calendar of events.
Call now to register! 732-569-3484.