Welcome to the Ocean County Long Term Recovery Group (OCLTRG)
When we come together as a community, we are all stronger, especially in the face of an unprecedented disaster like Superstorm Sandy. Designed as a single resource for Ocean County residents, the Ocean County Long-Term Recovery Group is your source for help.
OCLTRG Executive Director Speaks at Sandy Task Force Hearing in D.C.
Disaster Relief:
Moving Forward Together
Through the generosity of community partners and funding organizations including Robin Hood Foundation, Hurricane Sandy NJ Relief Fund, United Way of Ocean County, OceanFirst Foundation, World Renew, Lutheran Social Ministries, UMCOR, Salvation Army, The American Red Cross, Caregivers of NJ, and Homes For All, among others, we are able to provide assistance.
For further information, give us a call at 732-569-3484 or email us at info@OceanCountyLTRG.org.
Get Help Now
Give Help Now
Our Disaster Recovery Process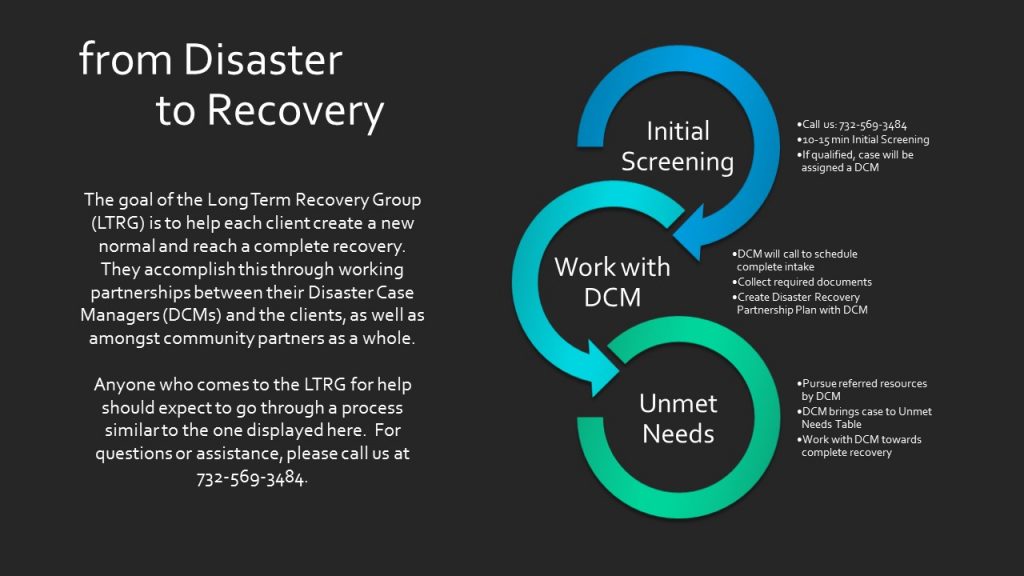 Latest News
Mental Health Issues Persist Three Years Into Sandy's Wake By Jennifer Peacock Hope turned to depression turned to anger: Three years out, many Superstorm Sandy survivors are still displaced, and with money and other resources running low, some may never return home. "They had hope…The initially thought, 'Hey, we can actually get somewhere and get […]
Read more
Major Supporters and Partners Include: