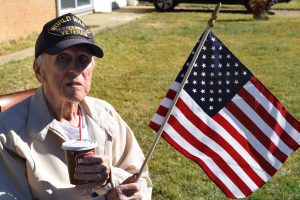 John, a 90-year-old WWII veteran, had been living in a house seriously damaged by Sandy for a year and a half before receiving assistance. It wasn't until some friends realized the poor quality of his living condition that he finally got help from OCLTRG. Through some hard work, we were able to provide him with a safe, sanitary and secure living situation. Then, shortly before the third anniversary of Sandy, we were able to welcome him home! While there, several people instrumental in helping John joined us in forming a large circle around his newly raised American flag. As we came together to bless John's home, the flag billowed softly in the breeze; reminding us of John's service and legacy!
Since conception, OCLTRG has provided funding to 748 households with senior citizens!
Like us on Facebook!