Over last four years, "Harry" and "Grace" have been forced to live in a trailer and several different rental properties. Their home in Little Egg Harbor was severely damaged by three feet of water and had to be completely demolished. Initially Harry and Grace's case was being handled through the Mental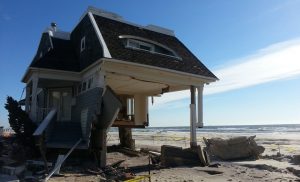 Health Association of NJ. However, after MHANJ's funding for disaster case management ended, their case was transferred to OCLTRG for rental assistance. Upon reviewing Harry and Grace's case, we learned that their rebuild was stalled for months because the contractor filed for bankruptcy. This left them with no remaining accessible funding and a half-finished home. Fortunately, following the advocacy efforts of OCLTRG and partner agencies, the state rental assistance programs for homeowners, RREM and LMI, have been extended.
The OCLTRG is now working with the family to find funding to finish their project. A Future with Hope, one of our nonprofit building partners, is intent on helping us get this job done but even with the use of volunteer labor it will cost $12, 300 to get Harry and Grace back home.
Donate today so we can continue to help families like Harry and Grace.