October 29, 2014
Ocean County Long Term Recovery Group Celebrates Sandy 2 Year Anniversary
Volunteers alongside First Lady Mary Pat Christie and representatives from the Hurricane Sandy New Jersey Relief Fund and A Future with Hope at a private residence in Toms River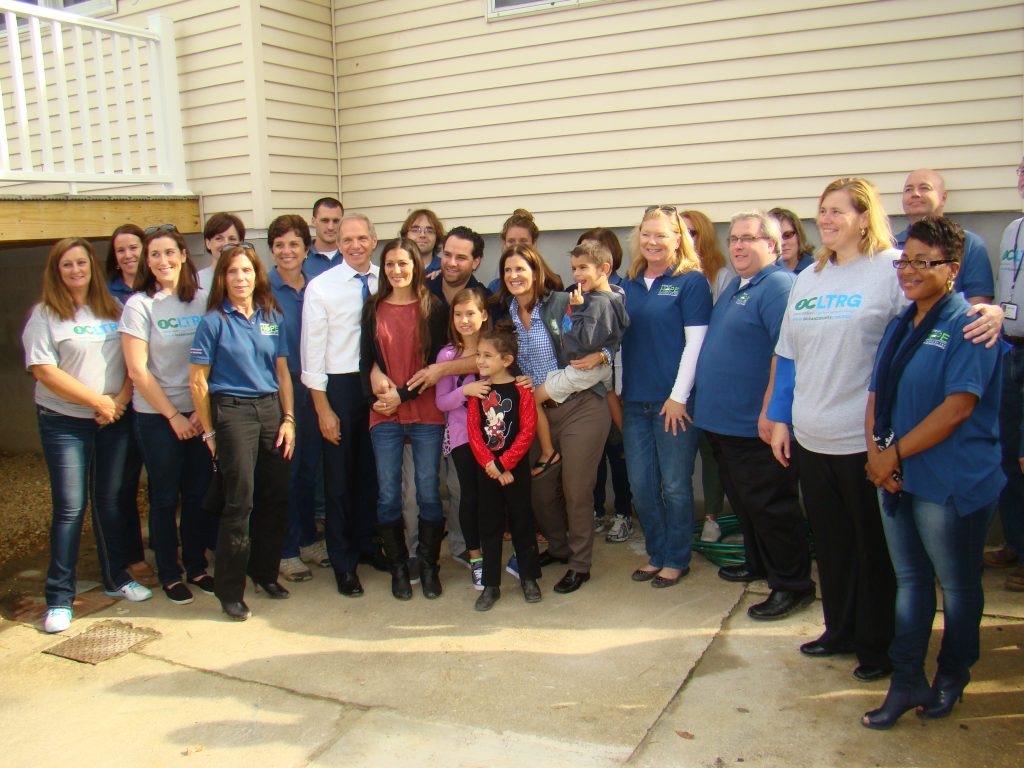 Toms River, NJ – A collaborative effort to help get a family home for the holidays took place today in Ocean County. First Lady Mary Pat Christie joined representatives from the Ocean County Long Term Recovery Group (OCLTRG), the Hurricane Sandy New Jersey Relief Fund and A Future with Hope to celebrate the near completion of the home of Toms River residents Charles and Angelina Lorenzo. Volunteers and several members of the press came to watch and participate in the commemoration which included a few brief speeches from key representatives, a tour of the house and even a little painting done by the First Lady.
The Lorenzos, along with their three children, have been displaced since SuperStorm Sandy hit two years ago. Though they initially were able to stay with relatives, the Lorenzo family has been in a rental across town for nearly two years. Because of the distance Angie had to quit her job in order to drive her kids to and from school each day. The financial burden placed on the Lorenzos because of the storm caused them to turn to the OCLTRG for help. Having been through the gamut of programs available, Sarah Ruane, their Disaster Case Manager at the OCLTRG, commented that "this family's a good example of people…who have done everything right, but they just didn't receive enough funding to be able to finish the project on their own, and that was when they reached out to us. They just needed that…extra push."
With the help of Sarah, the Lorenzos were able to access resources from many different partner organizations they wouldn't otherwise have known were available. Through a partnership with A Future with Hope, the OCLTRG was able to decrease the costs of rebuilding through volunteer labor. Over 2,300 hours, which equates to approximately $65,000, were put in by over 100 volunteers from such groups as the Nebraska Synod, the Karitas Foundation, McDonaldsville United Methodist Church, Zion United Methodist Church, Christ United Methodist Church-Bethel, Sparta UMC, First Presbyterian Church – Bloomsburg, Old Greenwich Presbyterian Church, Canfield Presbyterian Church, Lend-A-Hand, North Lancaster Conference (of the United Methodist Church), the Brethren and the Christian Public Service (Mennonites).
Charles, who himself joined alongside the volunteers and worked on the house as often as he could, reflected on the journey: "Everyone with the OCLTRG including our Disaster Case Manager and Project Coordinator, from our original contact to the present, have been a blessing to our family and give us our 'light at the end of the tunnel.' The new volunteers we get to meet each week are such awesome people, and their smiles really help us keep going."
"Collaboratively we are all working together to help our communities recover," noted Sue Marticek, Executive Director of the OCLTRG. "I truly feel that the key to this recovery is in our relationships, and I am so thankful to have [the many different] organizations walking side by side down this bumpy road of recovery."